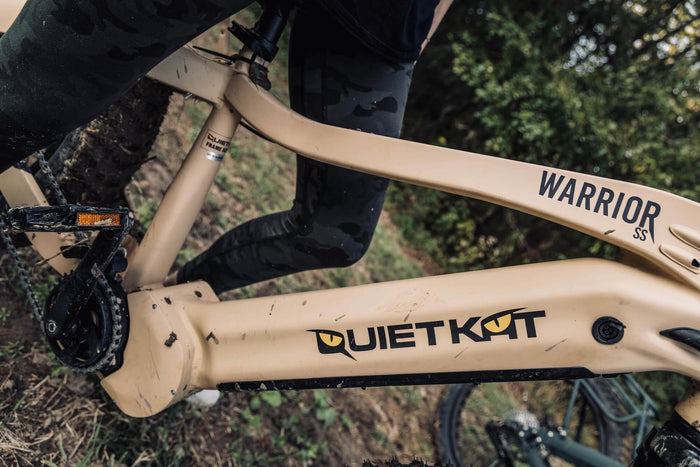 HEAVY-DUTY BY DESIGN
Rigged with an extra-durable frame, 4.5 inch fat tires, front fork suspension, and weather resistant components, you can test the Warrior in harsh conditions. Deploy it for chores around the ranch, or penetrate the backcountry with assurance of your return.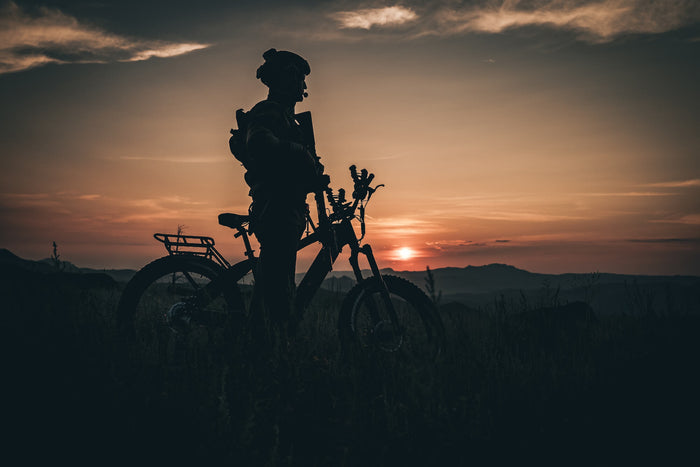 EQUIPPED FOR ELITE OUTINGS
The Warrior is meant to be loaded with all the gear and tools essential for your outing. Gun racks, rod holders, panniers, trailers and carts are easily attachable so you can save your strength for the mission ahead.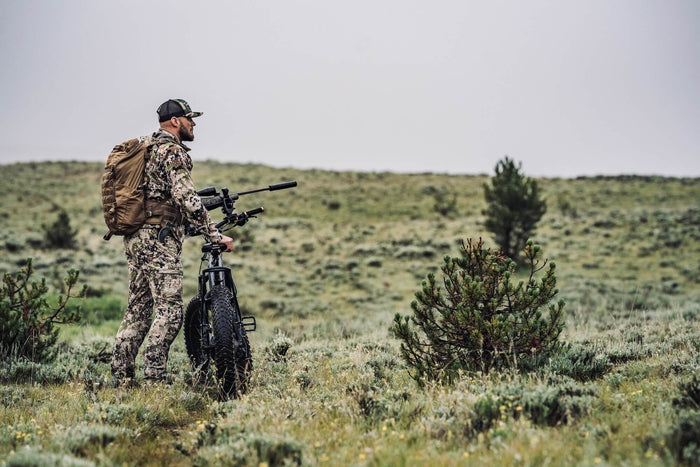 APPROACH SILENT AND SCENT-FREE
The Warrior's 614Wh battery delivers silent, scent-free power to explore the backcountry undetected. Perfect for anglers, hunters, and law enforcement on duty, or campers and overlanders enjoying the peace of nature.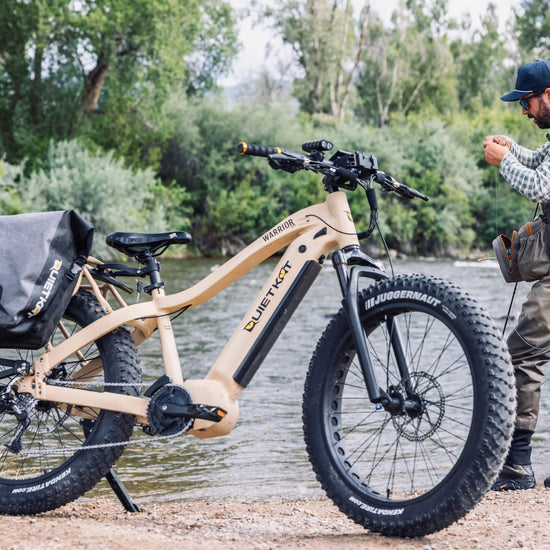 What size Warrior eBike do I need?
We offer a variety of sizes depending on your height to keep you riding in comfort.
Between 5'6"-6'0": MD
Over 6": LG
What is the load capacity?
The Warrior eBike is built tough to carry heavy cargo. It's been designed with a rider and load capacity of 325lbs, giving you the ability to transport more gear over longer distances.
What is the charging time?
QuietKat's premium batteries range in size and charge time. On a standard charger or solar charger the time range is approximately 6-8 hours. The pathfinder rapid charger cuts this time in half with a 3-6 hour charge time.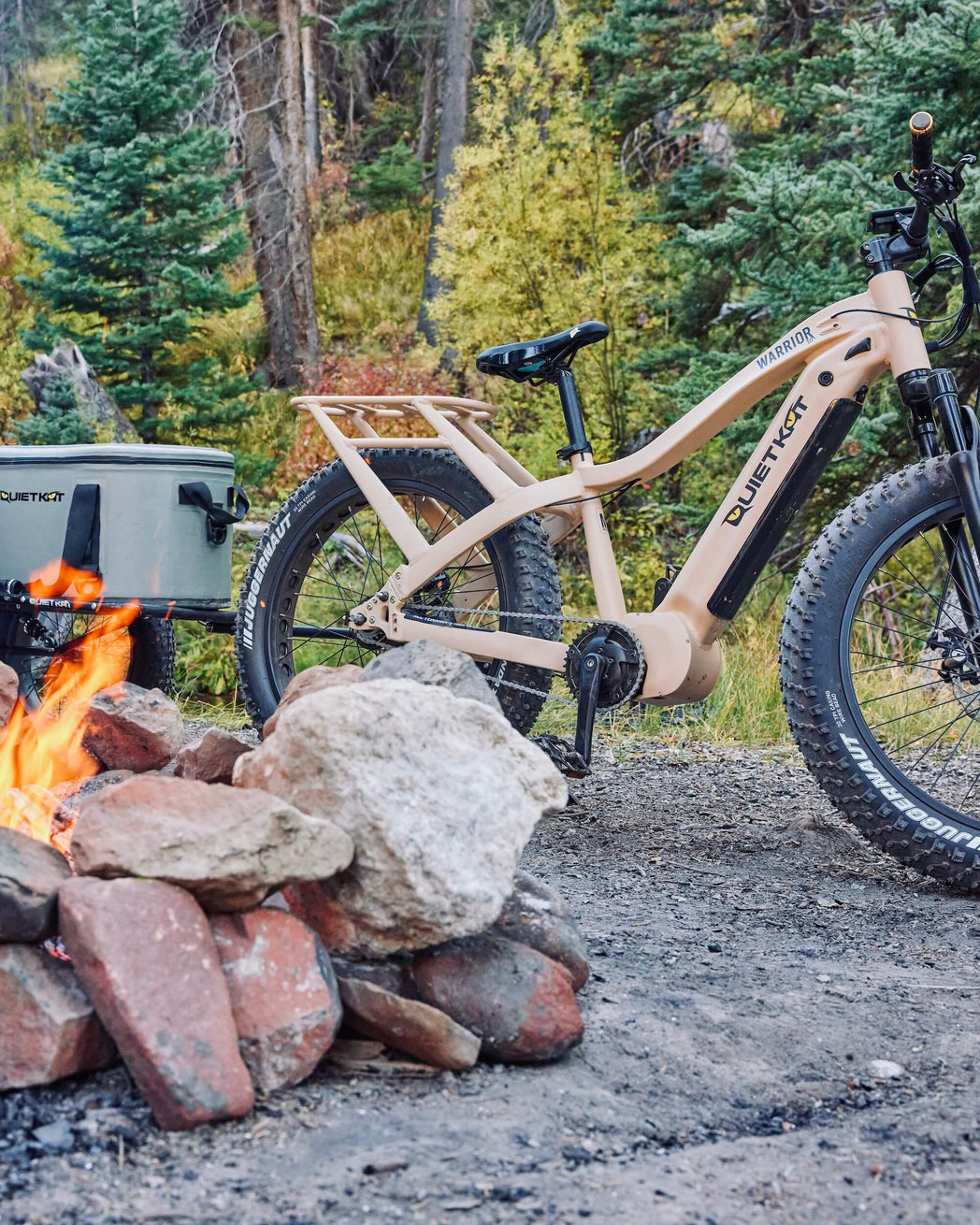 A Reliable Companion On The Trail
Whether you're on a hunt, heading to the lake, or getting to that perfect camping spot, the strong and reliable Warrior will get you and your gear to your destination. The thick frame and fat tires will add comfort and stability no matter the season, no matter the conditions.
Warrior E-Bike Features
The Warrior features an integrated battery and motor system along with updated frame geometry with focused weight distribution to optimize ride quality and handling. Adjustable dropouts make it easy to adjust the wheelbase or run a single-speed drivetrain for simplicity. Components include adjustable coil suspension, mechanical disc brakes, and an 8-speed drivetrain. Powered by a mid-drive motor, the Warrior utilizes the full range of gears for maximum torque for climbing steep hills.
Warrior E-Bike Benefits
Carry Heavy Loads: Carry up to 325 lbs of cargo under the power of a 750W/1000W motor, so you can get in and out of the backcountry in one trip.0
Fat tires: Fitted with high-quality 26" x 4.5" tires to tackle tough terrain from soft sand and snow to hard pack trails and rocks.
Flexible classification: Available as a 1000W unclassified eBike for maximum power.
Easy Configurations: Camp, hunt, and fish with attachments and accessories made to elevate your experience outdoors.